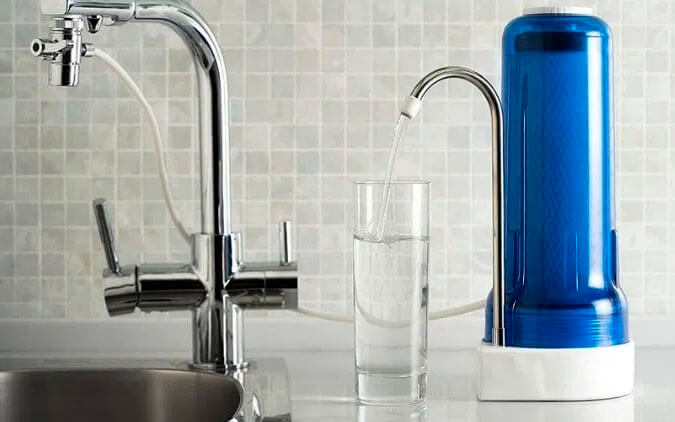 Water Filter Installation in Houston
Choosing a water filtration system is one of the most important decisions for adding value and quality to your life and home! With a professionally installed system, you never have to worry again that what's coming out of your tap may be causing your family harm because you'll have safe drinking water that is free of dangerous pollutants and heavy metals.
Even water that is treated by your town or city can still contain impurities that are potentially harmful to both you and your pipes. There are real concerns about the toxins and pollutants found in water creating health issues linked with organ damage, skin irritation, high blood pressure, nausea, diarrhea and impaired brain function.
What's in your water? Unfortunately, things like metals, chemicals and pesticides are commonly found in water sources. Treated water that comes though our pipes is often infused with chlorine and other chemicals that can have lingering effects when mixed with the organic matter that is found naturally in our water sources. You may be purchasing bottled water because you're concerned that your tap water from a well or public source is full of impurities that put your health at risk. There is a way to feel confident about your home's own water without the need to spend money or create waste with bottled water. At Wet Plumber Houston, we can help you to find the best water filtration system for water that tastes and smells great.
Choosing the Right Type of Water Filtration System
You have several options to choose from when bringing fresh, delicious water to your home using a filter. At Wet Plumber Houston, we can help you pin down the best option based on factors like your home's plumbing setup and your typical water usage. Here's a look at some common water filter system options:
Reverse Osmosis Water Filter: This filter type forces water through a special membrane to filter out close to 100 percent of contaminants. A reverse osmosis water filter is ideal for placement in a central location with heavy usage.
Carbon Water Filter: Carbon systems remove imperfections through absorption using a bed of activated carbon.
Ion Exchange Water Filter: This filter type performs an "ion swap" that replaces the calcium and magnesium in your water with sodium. This is a good choice when looking for a water softener in Houston because ion filtration softens hard water that contains impurities.
Regardless of which option you choose, your can look forward to healthier water that can give you confidence when drinking, cooking, cleaning and bathing. Many people find that their water often tastes much fresher and cleaner after installing a water filtration system due to the elimination of limescale deposits. You're also potentially saving your home's pipes and water-using appliances from very serious corrosion that can lead to floods and leaks.
Whole House Water Filtration System VS Under Sink Filter
When choosing an installation method, the two options available are an under sink water filter and whole house water filter. Generally, a whole house installation is going to give you better results and more flexibility. However, an under sink water filter works for people looking for cost-effective ways to enjoy healthier, tastier drinking water in one central area of a home without the bulk of an external faucet water filter.
Under sink water filtration system
Under sink installation eliminates the need for a bulky filter on your faucet's arm. This installation method is the most cost-effective choice for individual sinks. However, installing individual filters can become cumbersome if you have multiple sinks in your home.
Before you decide which water filter for water purification under the sink will suit you best, you need to know what they are available. There are only two types of such devices, externally very similar to each other, but different inside "stuffing". The first type is a flow-through filtration system. The second – filters that use the principle of reverse osmosis.
Whole house water filtration system
With whole house water purification systems, you're bringing water quality to more than two locations within your home. This is really the ideal choice for any home with more than one bathroom. You may also want to consider a whole house water purification system if you're noticing that the water coming from your taps is cloudy or has an odor. The installation process is essentially identical regardless of which type of water filter you choose to use in your home.
Water System Maintenance: Keeping Your Water Safe
While home water filtration systems are generally very easy to maintain, some minimal servicing is required to keep everything running in top condition. Generally, you'll want to have the filters on your water system serviced or replaced every six to 12 months to ensure that sediment isn't causing clogs. You may also notice a shift in performance with your filter that requires some professional attention. Here's a look at the common reasons why whole house water purification systems and filters require servicing:
There has been a change in your water chemistry or the level of contaminants that your current filter cannot properly address.
Changes in water pressure are altering the effectiveness of your filter.
Your filtering system needs to be replaced because it has reached the end of its life cycle.
Staying on top of water filter system maintenance is the best way to ensure optimal performance. While keeping your water filtration system in top condition does take just a little bit of attention, many people find that it ultimately saves them time and money when compared to using methods like purchasing bottled water, boiling their own water or using a filtering pitcher for drinking water.
Let Wet Plumber Houston Help You Find the Best Water Filtration System for Home
At Wet Plumber Houston, our team can walk you through all of the options for removing impurities from your water. While many companies offer whole house water purification systems in Houston, only our team offers the experience, terrific customer service and two-year guarantee on all work that will give you peace of mind when having your new water filter system installed. We're knowledgeable about all common water filtration systems. Whether you're looking for a new water filter system or you need a water filter replacement or repair, we'll provide you with state-of-the-art options. Our clients throughout Houston return to us time after time because of our reliability, responsiveness and excellent customer service. We'll provide you with upfront pricing when you seek out a quote for a water filtration system.