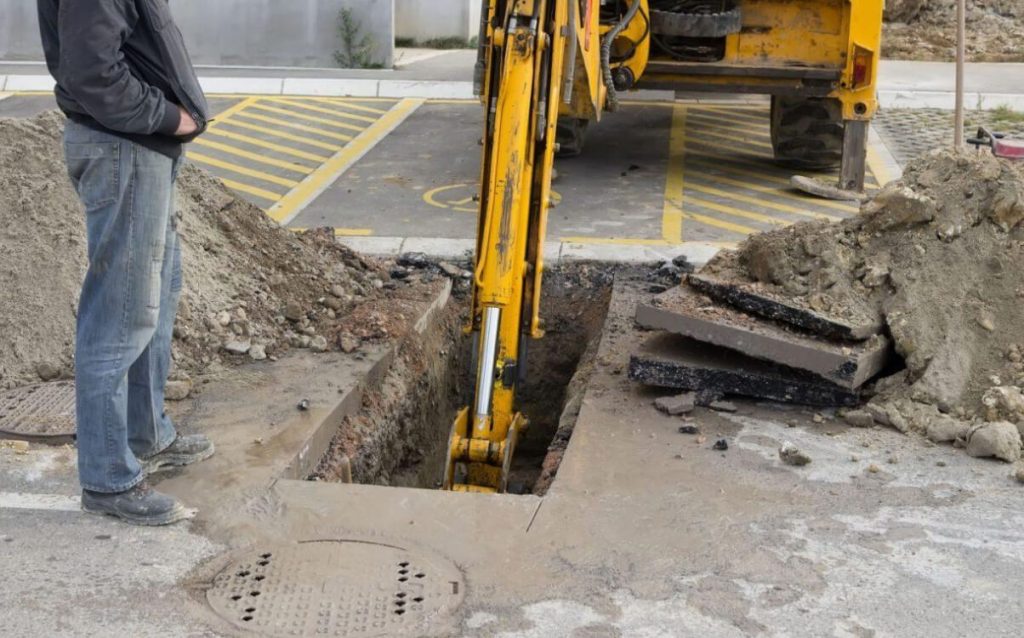 Worn sewer pipe may become not just an issue of dysfunctional plumbing. Without repair, any sewer issues deactivate home plumbing and spoil the drainage line. Besides, they pose a potent threat to health, landscape, and property. When a sewer line fails its fixing or replacement will cost the homeowner colossal amounts compared with scheduled plumbing repair in Houston. 
Common Sewer Line Issues
Most major plumbing issues often show up on the main drainage line, which is hidden from view but exposed to many factors. Time influences on sewer line damage level. The sewer pipes made of cast-iron that are older than 25 years, may collapse at any moment.
The same is true for brick, concrete, or clay pipes, which can last a little longer, for 40 years. PVC pipes are livelong but also have an average lifespan no more than 60 years. Crusted coating of calcium deposits and muck, accumulated for years, lead to fairly common troubles with pipe clogging and damaged sewer lines.
Many scores add to main sanitary line wear-out, such as groundwater, hard building water, shifting soil, channeling, cracks, tree root intrusion. Once the pipes laid underground breaks, the flow of water gets blocked with plant roots, ground fractions, and even small animals. Large holes and cracks make the pipe to serve as a conduit for shifting soil that creates a depression in the ground above. Nobody is happy with the bathroom full of sewage or busted pipes, that is why you should do your best to prevent the plumbing from failure.
How to Detect Your Line Needs Repair
Wet Plumber eagerly helps you with some professional recommendations to detect troubles at the early stage. Our great experience allows pointing out some signs, which should make you suspect deterioration, clogs, leakage, or cracks in the main sewer line. It is critical to watch out for the main warning symptoms of worn-out pipes.
✓ Backups or Blockages
Slow sewage draining or its backups may occur while flushing the toilet, running water down the bathtub drain, or kitchen sink. Though this kind of plumbing issues are the most common for the low drains, you shouldn't experience any of them. If things go wrong with blockages appearing in several drains after pipe cleaning, it is the mark your main sewer line has been in trouble.
✓ Sewer Gas Odor, Mildew, or Mold
A fully operational sanitary line is airtight, which means no foul odors can escape it. Sulfur gas has the scent of rotten eggs. It leaks out of gurgling pipes and drains and signals about the problems with the sewer line. A high level of humidity causes mold growth. Bad smell accompanied by mildew and mold is a telly-tale warning about the high time to call a qualified plumber.
✓ Wall Cracks and Broken Slabs
Cement fractures, wall cracks are dangerous pipe deterioration symptoms. If you leave a leak untreated for some time, there will be a void in pipes of the sewers under the building, that leads to cracks in a settlement, foundation, or sinkholes. In case of broken slabs, you should call both, either a plumber or foundation repair expert.
✓ Yard Puddles, Lush or Indented Lawn Area
If there are moisturized patches or puddles in the yard, your lawn is soggy and stinks, this is one more sign of a broken sewer line. The broken line shifts or destroys the lay, saturating the soil. Though sewage is not bad fertilizer and makes lawn patches greener, cracked leaking pipes and sinkholes are far from what you're dreaming about.
✓ Rats and Insects
A rodent infestation and insect invasion are convincing proofs of a broken drainage line. These unpleasant neighbors from sewers can spread life-threatening diseases. The smallest hole is enough for cockroaches, bugs, or sewer flies to get into your home through pipes. The best tactics are a pest control operation and thorough sewer inspection.
How to Ensure Against Sewer Pipe Damage
If a pipe is bursting and in need of repair, a common fix doesn't solve the plumbing issues at all. Any signs of a damaged sewer line lead to wear-out, and the sewer line needs to get replaced. You will hardly cope with many troubles by yourself as plumbing can be too complicated for laymen. Any chemical drain cleaners aren't able to clear a slow drain or blockage efficiently. They do more damage, eating pipe material away and provoking tremendous bills because of sewer line replacement cost.
You never know if your sewer line condition goes to extremes. The only available repair solution is recruiting the services of a professional plumber to handle repairs for you. The trustworthy licensed plumbers from Wet Plumber company will not only detect the failure cause but give a free consultation, replace the main sewer line after a sewer inspection, and do quality plumbing repair in Houston.
Why Hire Wet Plumber
Instant Turnarounds
We value our customers and their time, being aware of the potent aftermatch of delay. With the trucks fully stocked and the highly qualified technicians ready to work we get control of any emergency issues the same day you call us.
100% Satisfaction Guarantee
In addition to the 2-year warranty for your peace of mind, we also offer our 100% Satisfaction Guarantee. We want you to be completely satisfied with our plumbing services and send the expert plumber back to your place with no additional cost.
Advanced Technology: Trenchless Sewer Repair
Trenchless sewer repair is our cutting edge technology, that highly improves plumbing issue record and cuts sewer line repair prices. Our state of the art drain cleaning equipment removes your headache and saves either your money or time.
Upfront Affordable Pricing
Our staff is quick to respond to any plumbing issue, trying to make repair cost-effective. Call us for a free consultation, and you'll get an upfront detailed cost estimate and a work plan within your budget. Pay us once as we accomplished the work.