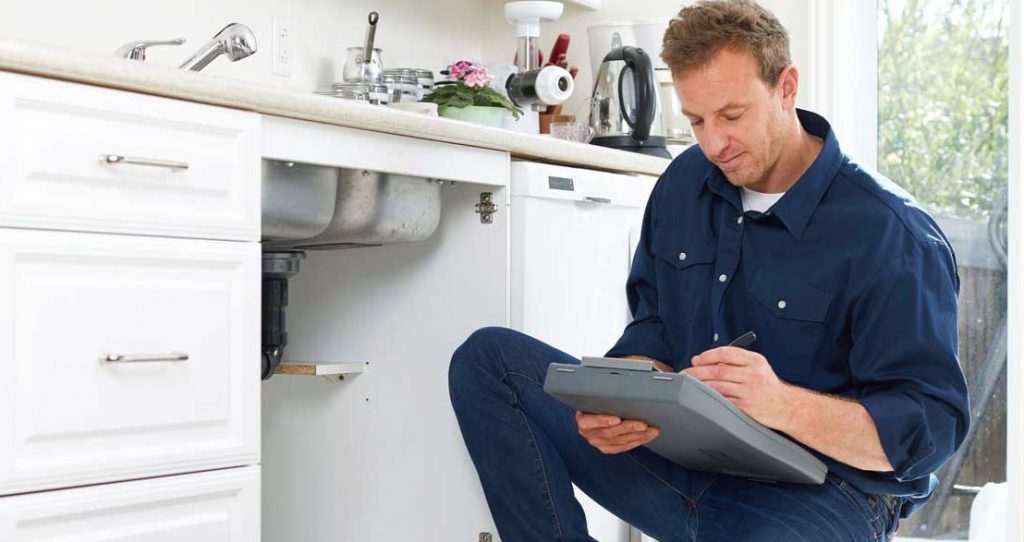 Every home, office, warehouse or commercial building relies heavily on their plumbing to function. This system is typically hidden within a structure or underneath it in the ground, so it's important that you have the plumbing inspected to see if everything is functioning as it should be. Whether you're purchasing a new home or renting out a commercial building, there are many benefits associated with having a plumbing inspection report done. Spotting any existing issues will allow you to have them fixed by the seller before signing any contracts. It's also beneficial to have the plumbing in your current home inspected routinely if it's been a number of years since this occurred.
What is a plumbing inspection?
A lot of homeowners don't truly understand what goes into the plumbing system that serves them each day. Commercial property owners don't usually get into the specifics of this system either. Until something goes wrong, most people don't know the working parts that go into their system.
During a plumbing inspection, a professional will look at sinks, faucets, pipes, toilets and other appliances that are connected to your plumbing. This may include a water softener or drinking water filtration system. They use a very intricate plumbing inspection checklist for each job. You'll end up with an accurate picture of your plumbing system's needs that should be addressed immediately, what can wait a little bit and what you can expect in the future. This information is useful because it can provide you with time to budget for repairs or replacements.

Some people are convinced that they can inspect their plumbing on their own. While you might be handy enough to assess what's going on, it's a good idea to have a professional check everything. They know exactly where to look to see if something is wrong. Not only that, but you'll be able to focus on the more important things in your life while letting the professionals do their job. Most homeowners are happy to pass on jobs like this, especially when it comes to poking around under the house or checking toilets. Some residential plumbing inspection procedures can also include things like flushing your hot water heater.
When is a plumbing inspection required?
While you can schedule a plumbing inspection in Houston as a preventive measure, there are some instances that require an inspection. The most common scenario would be during the construction process of a new structure. Remodeling updates would also require an inspection. Bathroom remodels involve a number of plumbing changes, so it's good to have a professional inspecting the area before and after to make sure everything has been constructed to code.

If you're going to be purchasing a new home or building, it's a good idea to have a City of Houston plumbing inspection done. It's not usually required by law, but it protects your finances if you discover there are any problems before closing. If you're still interested in the purchase, you can have the current owner complete the repairs before the deal is done. A report from a professional would be needed.
What happens during the inspection? How is it performed, and what should you expect?
Anywhere that water is running through your home should be inspected by a professional. This would include anything like a sink, toilet, water heaters, water lines and pipes. There are locations outside that should also be inspected. This includes hydrants and pipes. If you live in an area where the winters get very cold, it's a good idea that these areas are inspected for proper anti-freeze protection.
How to prepare for a plumbing inspection?
You'll want to make sure that you're hiring a home plumbing inspection company that is reputable and trustworthy in the area where you live. This will provide you with trustworthy results, and you'll be confident that nothing has been missed during the inspection. Once you've made your appointment, make sure that the owner of the location is aware that you'll need access to the building for the inspection. They have the right to be there as well. If the inspection is occurring at your own home, you can prepare a little bit to make the process easier when the day comes. Make sure large items are out of the way of things like your water heater. Quick access will make the appointment easier.
What should be done in between inspections?
If you recently had an inspection done, it's important that you still monitor what's going on in your location. Any leaks should be immediately addressed by a professional in order to prevent water damage which can result in some pretty expensive and involved remediation and repairs. Aside from fire damage and smoke damage, water damage is one of the most destructive situations to be in.
During the winter, make sure that you've followed all of the advice that you've been given to prevent freezing pipes. Exterior pipes may need to be insulated to prevent this from happening. If you're leaving your home for a number of weeks and plan on turning down the thermostat, you'll need to follow some steps to make sure the pipes are warm enough to remain intact.
All of the different fixtures, gaskets, washers and sealers within your plumbing system will only last so long. These parts wear out just like anything else will. Make sure that you keep an eye on things so you can be aware of anything that's breaking down.
Why choose Wet Plumber for plumbing inspection?
There are a number of plumbing inspector companies in the area, but Wet Plumber Houston will provide you with much more than just a rough plumbing inspection. You can expect reliable and superior customer service during each appointment, and we offer an affordable plumbing inspection cost. We are staffed with some of the most experienced professionals in the area, and we offer free consultations and estimates for any work that you need to have done. We only require payment upon completion of the job, and a two-year warranty is included with every job.

We also offer emergency services that are extremely fast and responsive from our inspector plumber staff. You can call us any time of day or night for a wide range of plumbing services. We can also check pipes for leaks and clogs with the use of state of the art equipment. There are a number of common clogs that we see in this area, and our knowledge will make quick work of the problem.

It's easy to neglect some of the moving parts of our home or office. Things like the HVAC system, electrical work or plumbing are often unnoticed until they fail. When you stay on top of things routinely, this can prevent major problems from taking place. A little bit of maintenance and minor repairs can go a long way towards protecting your property. Wet Plumber provides comprehensive plumbing inspections in a number of scenarios. This is a great way to stay safe while protecting your investment for many years to come.