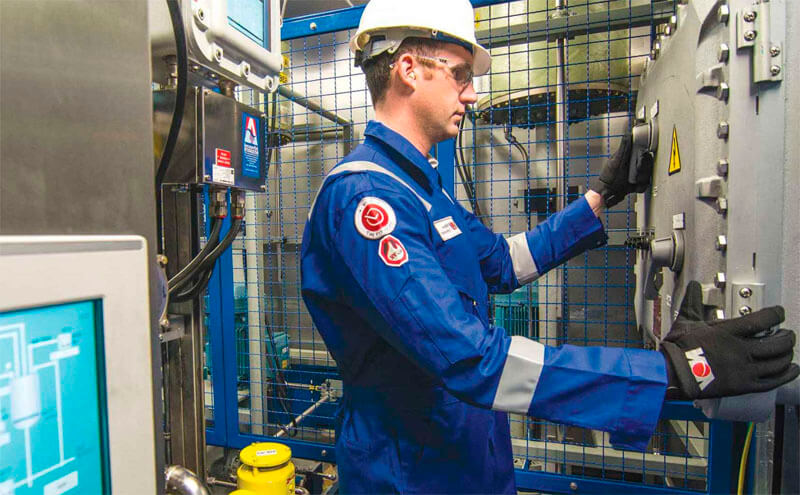 Commercial plumbing refers to the plumbing system within large buildings, establishments, and other structures. Industrial plumbing systems are designed to allow many users to be using the system simultaneously. They are complex infrastructures that require specialized plumbers in order to keep them optimized.
What Is The Difference Between Residental and Commerical Plumbing?
Size
The overall size of the system is the biggest difference between residential and commercial plumbing. A small business building has a larger and more complex plumbing system. Commercial buildings need to have toilets, showers, and running water to be working around the clock. This means that plumbers who work on these systems need to be available during the building's off hours to keep the plumbing working.
Safety
Safety requirements are another difference. This does not mean that residential plumbing does not have safety requirements, however, commercial plumbing has more requirements. This why a commercial plumber is needed. There are codes and safety requirements that the systems need to meet.
Multiple Floors
Most commercial buildings are over two stories. This means that commercial plumbing contractors will need to install several fixtures on multiple floors. To do this, gravity and water pressure need to be taken into consideration. The water pressure on the top floor needs to be equal to that on the lower floors.
Plumbing Problems
Plumbing problems between the two are different too. For example, if the ceiling is wet where there is a bathroom on the upper floor, it means there is a leak in the bathroom. However, in a commercial building, a leak from the ceiling could mean a clog in the pipes three stories up. Commercial plumbing companies need to consider the entire system when determining problems. There are several problems that need to be fixed.
Checks
It is necessary to have your home plumbing system checked once or twice a year. However, commercial buildings need to have schedule maintenance more often. Depending on the facility, checks may need to be scheduled weekly, monthly, or annually.
What Services Do Commerical Plumbers Offer?
Commercial plumbers offer many of the same services that you would expect a residential plumber to offer. Here is a list of services that commercial plumbers could provide.
Design and install plumbing systems
Install and maintain waterlines
Install and maintain the fire system
Keep stormwater drains and sewers clean
Install and maintain backflow systems
Install and maintain all pipework
Emergency plumbing service
What Type Of Facilities Are Considered Commerical?
There is a long list of commercial facilities. Here is the list of the common facilities.
Hospitals
Office Buildings
Schools
Amusement Parks
Sport Venues
Airports
Malls
Nursing Homes
Factories
Food Processing Plants
What are the Responsibilities of a Commerical Plumber?
A commerical plumber woks on complex water supply systems, fire sprinkling systems, boiler, water heating systems with commerical and industrial buildings.
They need to comply to the specifications of a job.
They are responsibe for designing the infrastructures for the building.
Commerical plumbers install aoo the systems, pipework, and hardware.
What Skills Do Commerical Plumbers Need?
A commercial plumber needs to be certified. Most commercial plumbers need to complete a program at a local college or university. Not only is there classroom training, but hands-on training is needed too. An apprenticeship or on-the-job training is advised for commercial plumbers. Not only do commercial plumbers have to install pipe systems and fixtures, but they need to know how to read blueprints, understand codes and regulations, understand the physics behind water flow, understand math, and know how to use all the tools needed to get the job done. Other skills required include excellent communication skills, able to work well with others, ability to problem solve, and time management.
How Do I Know When To Call Commercial Plumbers Near Me?
Commercial plumbers are on call day and night. Not calling a plumber when needed can result in extensive damage and costs. Here are many reasons for when to call a plumber.
Renovation
If you are planning a major plumbing renovation in your building, it is time to call a plumber. Though you may feel that you are qualified to do the job, however, if problems arise, it could end up costing a great deal to fix the problem. Moving water lines takes a detailed plan. It is also important that the drainage systems work appropriately.
A Pipe Burst
A burst pipe requires a plumber. The burst pipe can cause a lot of flooding, which could create a lot of damage. To both the items in the building and the building's structure. An experienced plumber will locate the pipe and fix it promptly.
Blockage
A pipe or drain that is block can also cause a lot of damage to your business. There could be many reasons for the blockage. It could be anything from tree roots to non-flushable items. Chemicals or other methods could create more damage. Call someone who can identify the problem quickly and take the appropriate measures.
Hot Water
Running a business with no hot water can cause problems for staff and guests. It is hard to clean, cook, or do other tasks. Lack of hot water signals a boiler or water heater problem. Call a specialist to solve the problem.
Why Choose Wet Plumber Houston?
It requires years of experience and specialization in order to be a well-respected commercial plumber. This is exactly what you get when choosing Wet Plumber Huston. Our plumbers are well experienced. We also put our customers first by being courteous and friendly, which is hard to find in this business. We provide customers with an upfront plan, including an estimate. There are no payments made until the job is complete. We guarantee all work for 2 years. We arrive on time, ready to provide high-quality work.